---
SERVING THE CHESS COMMUNITY SINCE 1982
American Chess Equipment (ACE) is excited to team up with the WE Games brand to bring you the best in chess. We are honored to be trusted by thousands of chess organizations across the US for over 30 years.
---
SCHOLASTIC CHESS
We believe chess belongs in our schools.
Numerous studies, over the past thirty years, have demonstrated a link between chess playing and improvements in educational performance. From visualization and strategic thinking to enhanced memory and concentration, the benefits of chess playing are infinite. It is not surprising that children who play chess are able to process complex cognitive tasks, with data indicating that young children utilize higher-order thinking skills, analyze actions and consequences, and visualize future possibilities. Therefore every time they play a game of chess, these skills are practiced and improved. Click for A GUIDE TO SCHOLASTIC CHESS
Tournament Chess Sets
---
We have years of experience customizing games and chess products. Let us put your brand or chess club logo on your chess item to make it truly special...great for individuals, chess clubs, and companies.  Let your opponents know you are serious about the game, or spread the word about your chess club or organization by personalizing your equipment.  Contact us for a quote.
---
Bobby Fischer® Learn to Play Chess Set
Proudly earning the Mom's Choice Award Honoring Excellence.
BUY NOW
---
OUR GAMES AROUND THE COUNTRY...Spotted in New Orleans!
Coach Jay Stallings from Sean's Fund sharing the game of chess at the Pasadena Shriner's hospital. Congratulations to Veronika Zilajeva of Oklahoma, winner of the Girls Tournament of Champions! - Holding the WE Games Ultimate Tournament Chess Pieces. Evan Rabin from Premier Chess of New York City with our custom Mousepad Chess Boards.  Is that Jude Acer, the Chess Master, showman, and author extraordinaire, with the WE Games Supersize Checkbook Magnetic Chess Set?
---
Blog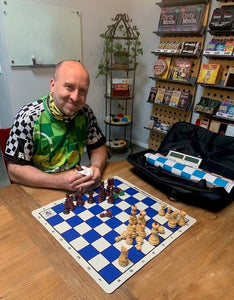 Hey Everyone, Shelby from American Chess Equipment here and today we are going to be going through getting your chess equipment ready for "OTB" (Over the Board) tournaments again. ...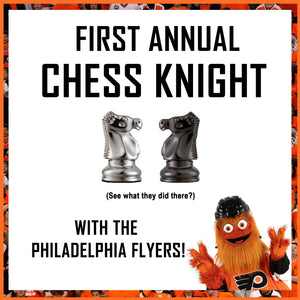 What: First Annual "Chess Knight" with the Philadelphia Flyers  When: Saturday, November 20, 2021  Where: Wells Fargo Center 3601 South Broad Street Philadelphia, Pennsylvania 19148 American Chess Equipment (ACE) is teaming up with...
  American Chess Equipment is proud to announce our partnership with Jim Hollingsworth and the Texas Armed Forces Chess to bring to you the 2021 US Armed Forces Chess Championship! Jim Hollingsworth is...